2022-23 REGISTRATION INFO
REP REGISTRATION DEADLINE IS MAY 31st, no exceptions.
HOUSE REGISTRATION DEADLINE IS JUNE 30th, late charges will apply after that date.
First-time players
First-time players are those that have NEVER been registered in a minor hockey association. We welcome first- time players of all ages, it's never too late to start playing hockey!
| YEAR OF BIRTH | AGE DIVISION | FIRST-TIME PLAYER FEES including Registration, Fundraising Payment & Refundable Jersey Deposit |
| --- | --- | --- |
| 2016-2017 | U7 | $235 |
| 2014-2015 | U9 | $235 |
| 2012-2013 | U11 | $285 |
| 2010-2011 | U13 | $335 |
| 2008-2009 | U15 | $335 |
| 2005-2006-2007 | U18 | $335 |
RETURNING PLAYERS
IMPORTANT - You will need to have your player's Hockey Canada ID to begin the registration process.
Each player that was registered in NMHA last season should find that field pre-populated on the registration form. Please take note of that number for future reference - moving forward all Minor Hockey correspondence and registration will require your child's Hockey Canada ID.
If this 13-digit Hockey Canada ID number does NOT pre-populate:
You can find it on the payment receipt you received from our Registrar for last season's fees, OR
You can email to have it sent to you.
GETTING STARTED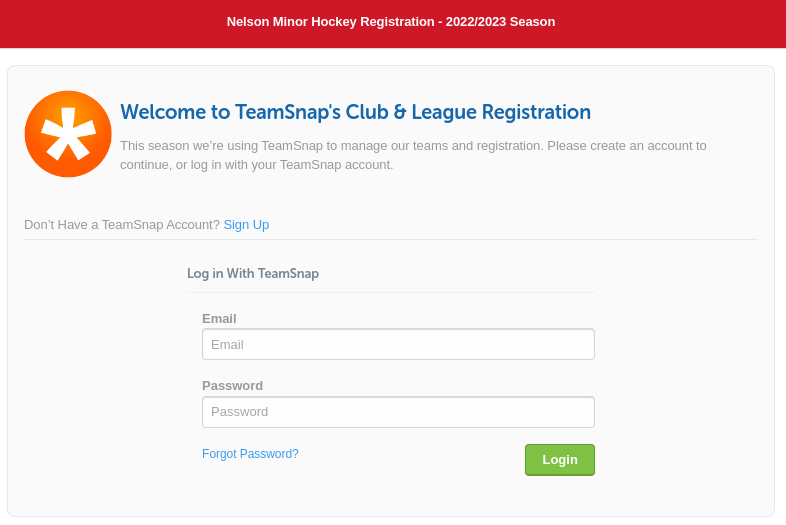 Add Participants

Once you are signed in you will be taken to the first page of registration - the participant information form. This is where you will add the information for the participants being registered, as well as any parent/guardian information requested. Fields marked with a red asterisk ( * ) are required information.

A pop-up may appear asking if you want to register a specific player – if you choose this option some of the info fields will be pre-populated. Note - any fields that have been pre-populated can be changed if necessary (for example if you have a new address).
If you are registering multiple players, click the Add Another Participant button to generate an additional participant info section. You can add as many participants as needed.
IMPORTANT NOTE – The HOCKEY CANADA STATUS box must be GREEN and say 'Online!' (as pictured above) for the registration to be accessible. If it is RED and 'Offline' you will have to try again later.
Complete the Documents and Waivers Acknowledgements

On Page 2 you'll find the following three documents:
NMHA Code of Conduct
NMHA Privacy Policy
NMHA Registration Waiver
Please review and acknowledge that you have read these documents by entering your full name in the acknowledgement field. If you have any questions or concerns, please contact .
Select Your Fees

Page 3 is where you choose your programming options/fees.
| DIVISION | BIRTH YEAR | FEES including Registration, Fundraising Payment & Jersey Deposit BEFORE June 30, 2022 | FEES including Registration, Fundraising Payment & Jersey Deposit AFTER June 30, 2022 |
| --- | --- | --- | --- |
| U7 | 2016-2017 | $390 | $490 |
| U9 | 2014-2015 | $390 | $490 |
| U11 | 2012-2013 | $575 | $775 |
| U13 | 2010-2011 | $625 | $825 |
| U15 | 2008-2009 | $625 | $825 |
| U18 | 2005-2006-2007 | $625 | $825 |
| U13 GOALIE | 2010-2011 | $200 | $400 |
| U15 GOALIE | 2008-2009 | $200 | $400 |
| U18 GOALIE | 2005-2006-2007 | $200 | $400 |
REP REGISTRATION
Players wanting to try out for a Rep team must choose both the appropriate division registration option

AND

the

$100 REP TRYOUT FEE option

when registering. This rep tryout fee CANNOT be added at a later date. NO EXCEPTIONS to our May 31st rep deadline.

Rep Registration fees are $225 ON TOP of the base Registration fees on this form

. Rep tryouts will take place in early September. Players selected to a Rep team will pay the $225 rep fees within one week of team selection.

THESE ADDITIONAL REP FEES WILL APPLY TO GOALIES AS WELL

.
The $100 Rep Tryout Fee is

NON-REFUNDABLE

.
GENERAL REGISTRATION NOTES
Rep Registration Deadline is May 31st.
House Registration Deadline is June 30th. Team Snap will

automatically

charge the higher fees on all registrations received after midnight June 30th.

NEW THIS YEAR

–

Fundraising Payment

and

Jersey Deposit

amounts are included in the Registration process.

NEW THIS YEAR

- Goalies U13 and up pay

ZERO base registration fees

. Goalie position specialization does not start until U13. Players in younger divisions interested in playing Goal continue to play all positions, and therefore no Goalie-specific registration option is available below U13.

NEW THIS YEAR

– Payments can be made in

4 equal installments

– installment #1 due at time of registration and the remainder on the following dates – July 31st, August 31st, and September 30th. The installments will automatically be applied to your credit card on those dates.
Participant Fees are based on birth year so you may see options that don't apply to your player, only choose what is applicable.
Players wanting to play overage must register in their "birth year" Division and apply for overage permission in September.
Refunds will be given for cancelled registrations only. The refund will be pro-rated based on the cancellation date. No refunds after December 1st, 2022.
MULTI-CHILD DISCOUNT - if you are registering more than 3 siblings at once – please answer YES to the multi-child question on the Registration from to have a $100 credit applied to your total registration.
KIDSPORT FUNDING
KidSport Nelson provides money to help with youth sports registration fees so that ALL kids can play.
TO APPLY:
Please apply to KidSport directly, NMHA cannot do it on your behalf. See kidsportcanada.ca/british-columbia/nelson/apply-for-a-grant. Please apply by JUNE 30th and notify that you have done so. If you make a payment to NMHA and then funding is approved, you will be reimbursed.
TO DONATE:
NMHA believes youth sports should be open and accessible for ALL kids, which is why we have added an option to donate to Kidsport when registering. If you can help, please consider doing so – last year we raised $770 from our registration donations, thanks very much to you all for your continued generosity!
CHECKOUT

All payments are to be done by credit card. If you are unable to register using a credit card, please contact . Payment processing fees are INCLUDED in the registration totals.

Installment payment schedules will be presented below the credit card information area so that you can see the payment breakdown and the total that will be processed immediately upon checkout.

Once you have entered your payment info, you'll be taken to the receipt screen. Please save/print this receipt for your records. When everything is complete, you will receive an email from Team Snap confirming your registration and payment. From there you will have been added to our email list and will receive communication throughout the summer regarding the upcoming 2022/2023 season.

THANKS FOR SUPPORTING MINOR HOCKEY IN OUR COMMUNITY! CAN'T WAIT TO SEE YOU ON THE ICE IN THE FALL!