NEW! » Age Division Chart for 2021-22 Season
---
News
NMHA players to Nelson Leafs
December 2, 2021
Bill McDonnell answers, "Where are they now?" (PDF)
---
Quinn Commits to NCAA Div 1 Bemidji State
November 20, 2021
Nelson's Noah Quinn has committed to NCAA Division 1 Bemidji State University! More from cranbrookbucks.ca
---
Nelson players crack West Kootenay U15 AA Zone team lineup
November 3, 2021
Congratulations to NMHA players Eliot Rude, Miller Tedesco, Kale Gehrmann, Sebastien Conne-Correnti on making the West Kootenay U15 AA Zone team this season!
---
Power skating for U11 and older
We are thrilled to be offering weekly early morning power skating with Rachel Stewart starting next week!
This opportunity is open to all players ages U11 and older.
The Fall Session includes 8 ice times at 6:30-7:30am in the NDCC.
Days will be EITHER Tuesdays or Thursdays - your player will be assigned to the same one morning per week based on their age.
Cost for all 8 sessions only $75.
Register here: go.teamsnap.com/forms/291833
---
U11 Development
We are offering a weekly "U11 Development" early morning ice time with Pete Quinn starting next week.
This opportunity is open to all players currently playing on one of our U11 teams.
The Fall Session includes the following ice times:
WEDNESDAYS 6:30-7:30am at the NDCC
November 3, 10, 17, 24
December 1, 8, 15
Cost for all sessions only $100.
Register here: go.teamsnap.com/forms/291842
---
Parent Meeting
Thanks to everyone that attended our BC Hockey-mandated parent meeting last night.
For those of you that were unable to attend, please see this link for a summary:
---
NEW! This program will run weekly starting Wednesday October 13th. It's open to girls ages 6-18 that have never played hockey before and are not currently registered in our co-ed programming options.
This multi-age programming is aimed at providing girls the chance to learn to play hockey in an inclusive and non-competitive atmosphere.
Cost is only $50, thanks to a generous donation from PULPIT PLUMBING to help get this programming off the ground.
Spots are limited.
Know any girls that have always wanted to give hockey a try? Please spread the word!
Coach: Kyle Mace
Program runs every Wednesday, 3:30-4:30 PM in the Civic Arena.
Contact Sherri Malpass () for more information
---
First time players!
NOTE RE: REGISTRATION FEES FOR FIRST TIME PLAYERS.
REGISTRATION COST for the entire season $100.
First time players are those that have NEVER previously been registered in a minor hockey association. We welcome first time players at any age/division, it's never too late to start playing hockey!
First-time players will NOT have to use the TeamSnap registration process outlined here.
Instead, please fill out the form available below:
Download First Time Player Registration Form
---
U13 Rep gives to local KidSport & NMHA!
May 18, 2021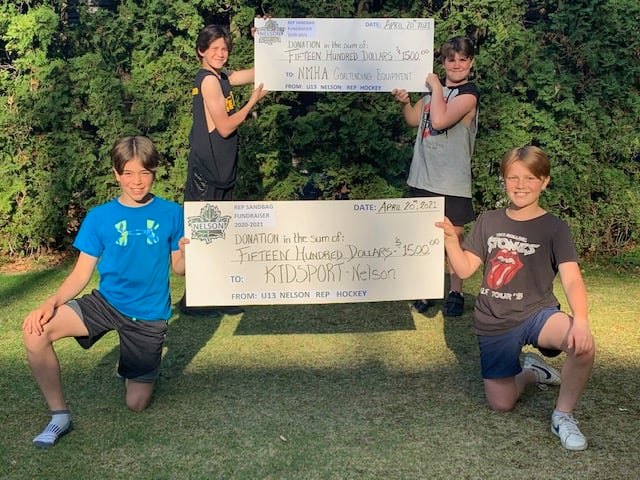 Thanks to our U13 Rep team for their hard work and generosity!
As always, our U13 Rep team worked extremely hard on the sandbag fundraiser last season - shoveling sand, piling up hundreds of bags, taking orders and delivering sandbags all throughout the winter to gas stations from Kaslo to Nelson to Salmo to Winlaw. This year, due to no travel and Covid, the team generously decided to donate a portion of their Fundraising efforts to the community.
$1500 was donated to KidSport Nelson, which provides grants to help cover the costs of registration fees so that all kids aged 18 and under in Nelson can play a season of sport.
Another $1500 was donated to Nelson Minor Hockey specifically to put towards goalie equipment purchases.
Sending out thanks to all the local businesses that support the sandbag fundraiser every year, NRM & YRB, and all the locals that buy sandbags each winter. Huge thanks to all the U13 kids and parents for your hard, back-breaking work and your generosity - it's very much appreciated!
---
Raffle winners!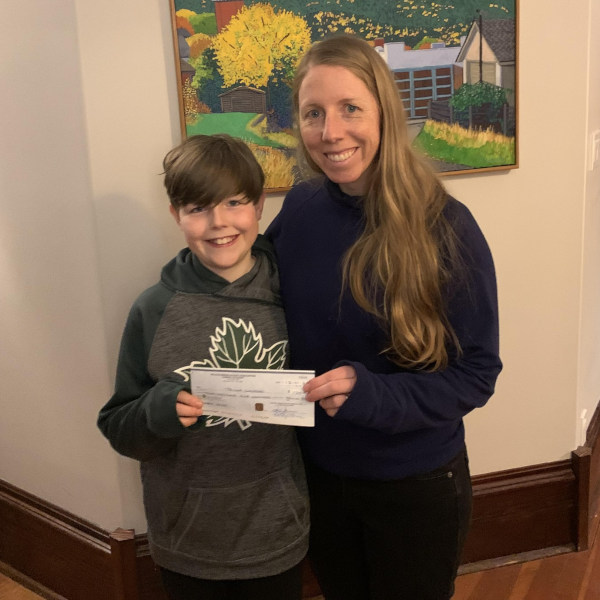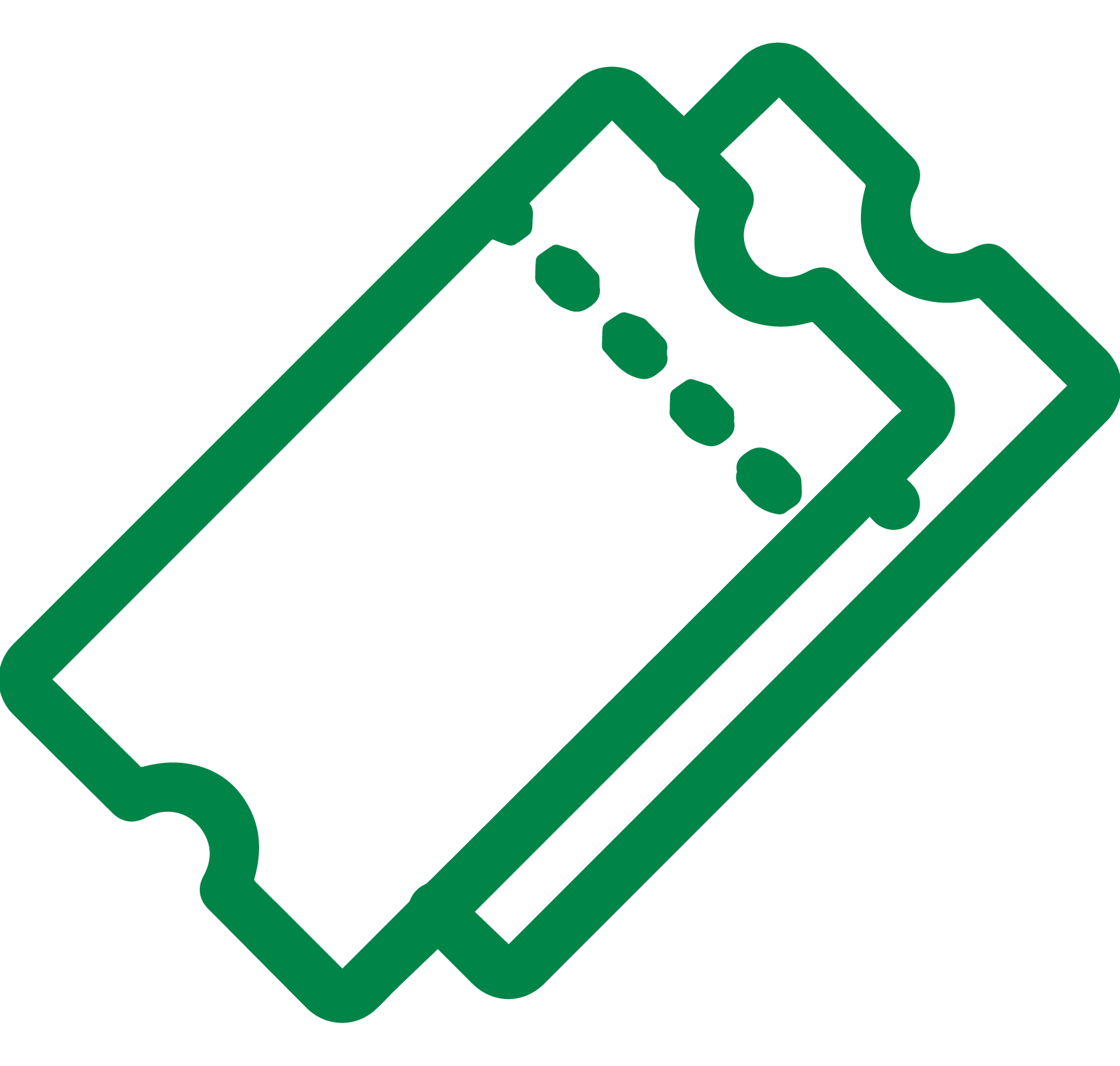 January 20, 2021
Congratulations to our raffle winners:
1st prize $1500 Trisha Goodman
2nd prize $500 Chad Smith
3rd prize $250 Mel Brasseur
---
West Kootenay U18 Zone team
October 7, 2020
Ethan Bennett has made the West Kootenay U18 zone team! Congratulations!
---
West Kootenay U15 Zone Team
September 28, 2020
Congratulations to NMHA players Sebastian Conne-Correnti, Tyson Hutt and Leo Jewitt on being selected to the West Kootenay U15 zone team!
---
NMHA grad, Noah Quinn, joins BCHL's newest franchise
Cranbrook Bucks Commit Kootenay Forward Noah Quinn #BCHL #jointheherdhttps://t.co/L7NWW9gvHB

— Cranbrook Bucks (@CranbrookBucks) April 2, 2020
---
Former Nelson Leaf and Castlegar Rebel Adam Maglio keeps an eye on things from the Spokane Chiefs bench
» Story by Bill McDonnell - PDF
---
NMHA Grad Kaleb Comishin top D-Man in KIJHL Murdoch Division
Congratulations to Kaleb Comishin who has won top defence man for the Neil Murdoch Division!#LeafGreen pic.twitter.com/JdSmdRxk0w

— Nelson Leafs (@Nelsonleafs) February 27, 2020
---
Congrats to Reece Hunt!
Congrats to @reecehunt44 for being named to the All-WCHA Rookie Team!!

20 members of the BSU Women's Hockey team also earned WCHA All-Academic honors!!

📝https://t.co/Hs9dfYFtK3#GoBeavers #BeaverTerritory pic.twitter.com/99wiJ3BWH0

— Beaver Womens Hockey (@BSUBeaversWHKY) February 27, 2020
---
Quinn named MML Player of the Month!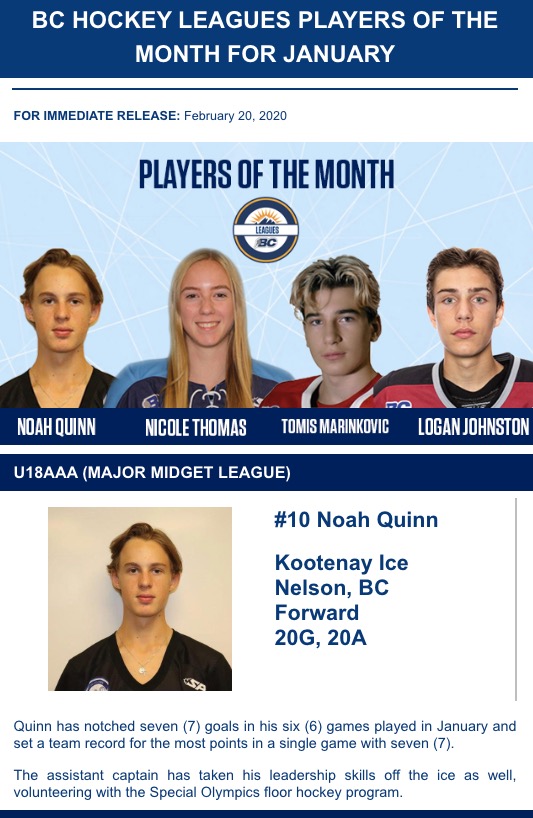 ---
Where are they now?
By Bill McDonnell

» Female NMHA players > Wildcats > University (PDF)
 
» Former NMHA players current teams, 2019-20 (PDF)
---
Former NMHA player wins second 'Hot in the KI' star
Congratulations to Nelson Minor Hockey grad Joe Davidson who's having a stellar rookie season in KIJHL!
» Read it here in The Nelson Daily
---