NEW! » Age Division Chart for 2021-22 Season
---
---
CALLING ALL COACHES/ON-ICE HELPERS!!
We are now accepting applications for the upcoming season for coaches and on-ice helpers.
---
U13 Rep gives to local KidSport & NMHA!
May 18, 2021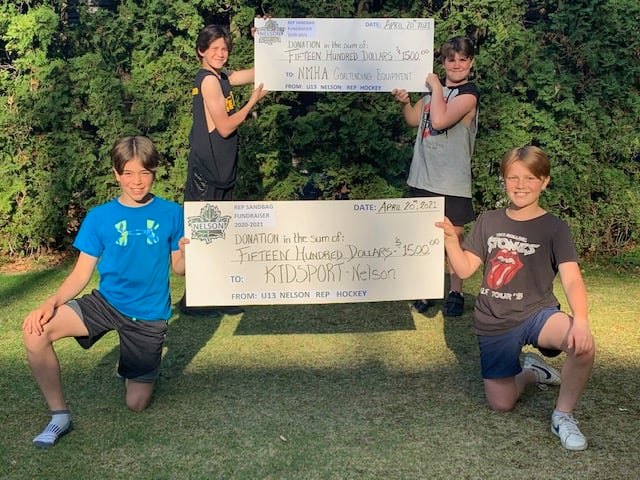 Thanks to our U13 Rep team for their hard work and generosity!
As always, our U13 Rep team worked extremely hard on the sandbag fundraiser last season - shoveling sand, piling up hundreds of bags, taking orders and delivering sandbags all throughout the winter to gas stations from Kaslo to Nelson to Salmo to Winlaw. This year, due to no travel and Covid, the team generously decided to donate a portion of their Fundraising efforts to the community.
$1500 was donated to KidSport Nelson, which provides grants to help cover the costs of registration fees so that all kids aged 18 and under in Nelson can play a season of sport.
Another $1500 was donated to Nelson Minor Hockey specifically to put towards goalie equipment purchases.
Sending out thanks to all the local businesses that support the sandbag fundraiser every year, NRM & YRB, and all the locals that buy sandbags each winter. Huge thanks to all the U13 kids and parents for your hard, back-breaking work and your generosity - it's very much appreciated!
---
Raffle winners!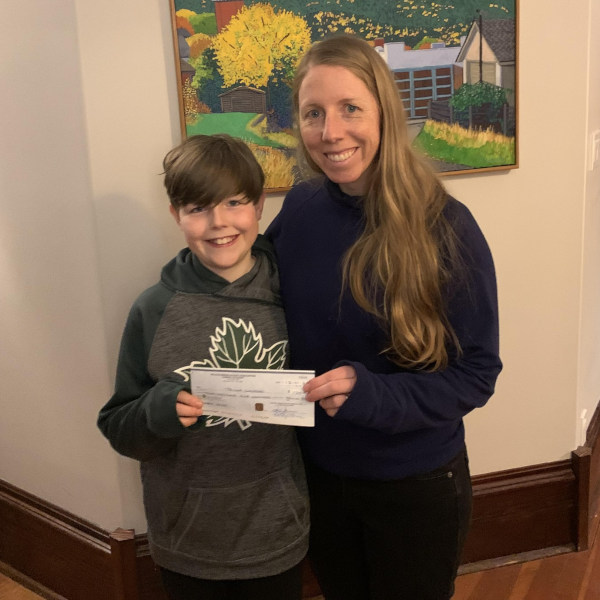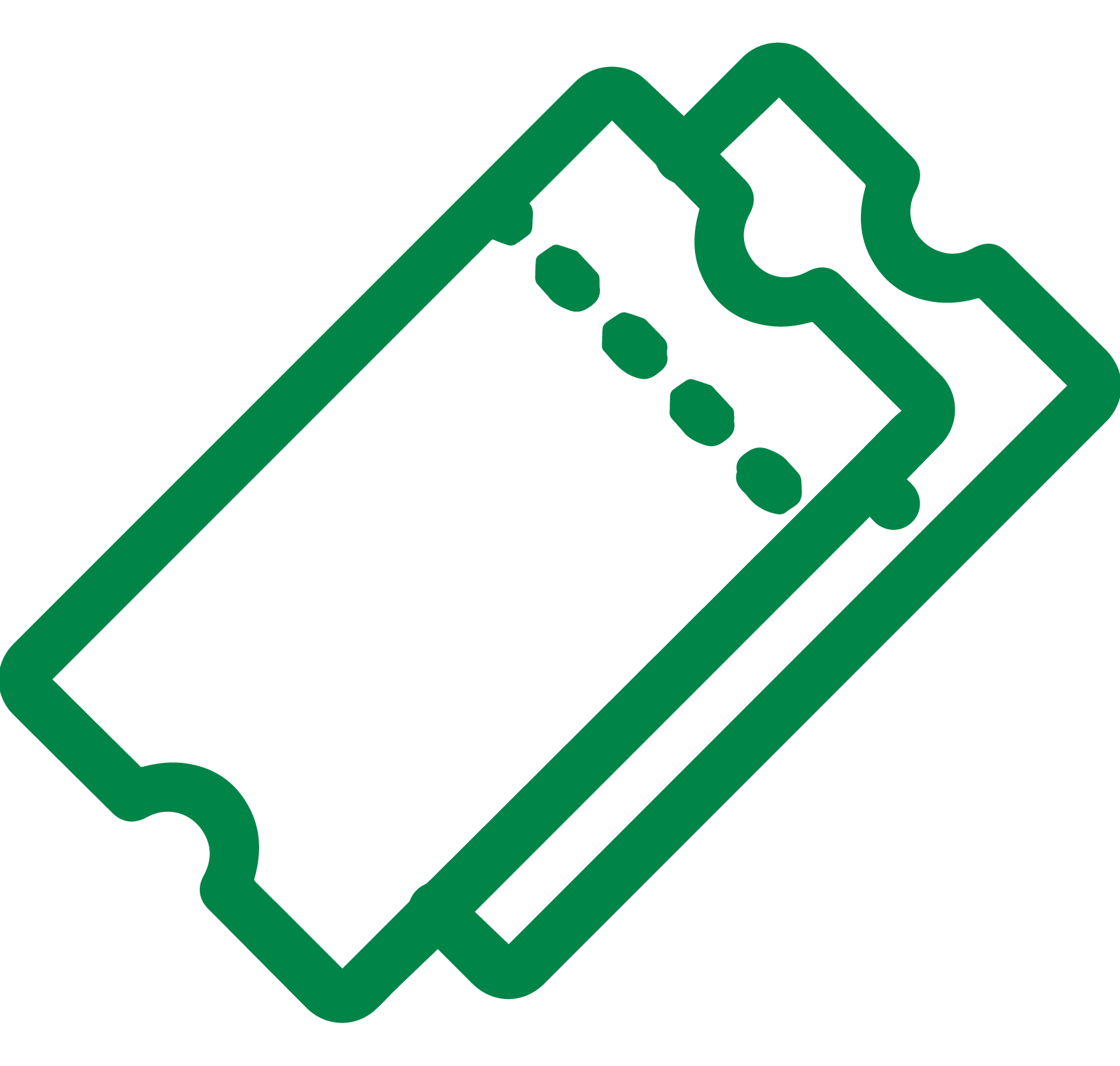 January 20, 2021
Congratulations to our raffle winners:
1st prize $1500 Trisha Goodman
2nd prize $500 Chad Smith
3rd prize $250 Mel Brasseur
---
West Kootenay U18 Zone team
October 7, 2020
Ethan Bennett has made the West Kootenay U18 zone team! Congratulations!
---
West Kootenay U15 Zone Team
September 28, 2020
Congratulations to NMHA players Sebastian Conne-Correnti, Tyson Hutt and Leo Jewitt on being selected to the West Kootenay U15 zone team!
---
NMHA grad, Noah Quinn, joins BCHL's newest franchise
Cranbrook Bucks Commit Kootenay Forward Noah Quinn #BCHL #jointheherdhttps://t.co/L7NWW9gvHB

— Cranbrook Bucks (@CranbrookBucks) April 2, 2020
---
Former Nelson Leaf and Castlegar Rebel Adam Maglio keeps an eye on things from the Spokane Chiefs bench
» Story by Bill McDonnell - PDF
---
NMHA Grad Kaleb Comishin top D-Man in KIJHL Murdoch Division
Congratulations to Kaleb Comishin who has won top defence man for the Neil Murdoch Division!#LeafGreen pic.twitter.com/JdSmdRxk0w

— Nelson Leafs (@Nelsonleafs) February 27, 2020
---
Congrats to Reece Hunt!
Congrats to @reecehunt44 for being named to the All-WCHA Rookie Team!!

20 members of the BSU Women's Hockey team also earned WCHA All-Academic honors!!

📝https://t.co/Hs9dfYFtK3#GoBeavers #BeaverTerritory pic.twitter.com/99wiJ3BWH0

— Beaver Womens Hockey (@BSUBeaversWHKY) February 27, 2020
---
Quinn named MML Player of the Month!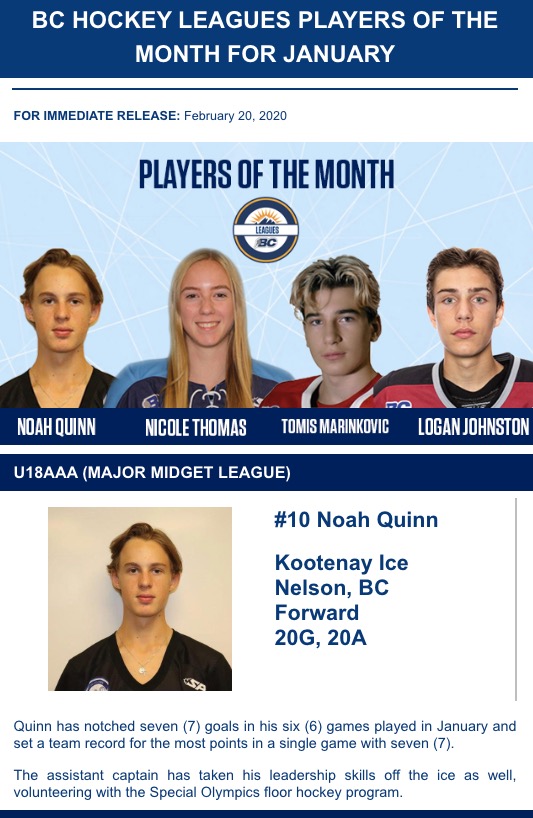 ---
Where are they now?
By Bill McDonnell

» Female NMHA players > Wildcats > University (PDF)
 
» Former NMHA players current teams, 2019-20 (PDF)
---
Former NMHA player wins second 'Hot in the KI' star
Congratulations to Nelson Minor Hockey grad Joe Davidson who's having a stellar rookie season in KIJHL!
» Read it here in The Nelson Daily
---