---
U13 Rep gives to local KidSport & NMHA!
May 18, 2021
Thanks to our U13 Rep team for their hard work and generosity!
As always, our U13 Rep team worked extremely hard on the sandbag fundraiser last season - shoveling sand, piling up hundreds of bags, taking orders and delivering sandbags all throughout the winter to gas stations from Kaslo to Nelson to Salmo to Winlaw. This year, due to no travel and Covid, the team generously decided to donate a portion of their Fundraising efforts to the community.
$1500 was donated to KidSport Nelson, which provides grants to help cover the costs of registration fees so that all kids aged 18 and under in Nelson can play a season of sport.
Another $1500 was donated to Nelson Minor Hockey specifically to put towards goalie equipment purchases.
Sending out thanks to all the local businesses that support the sandbag fundraiser every year, NRM & YRB, and all the locals that buy sandbags each winter. Huge thanks to all the U13 kids and parents for your hard, back-breaking work and your generosity - it's very much appreciated!
---
Raffle winners!
January 20, 2021
Congratulations to our raffle winners:
1st prize $1500 Trisha Goodman
2nd prize $500 Chad Smith
3rd prize $250 Mel Brasseur
---
West Kootenay U18 Zone team
October 7, 2020
Ethan Bennett has made the West Kootenay U18 zone team! Congratulations!
---
West Kootenay U15 Zone Team
September 28, 2020
Congratulations to NMHA players Sebastian Conne-Correnti, Tyson Hutt and Leo Jewitt on being selected to the West Kootenay U15 zone team!
---
NMHA grad, Noah Quinn, joins BCHL's newest franchise
Cranbrook Bucks Commit Kootenay Forward Noah Quinn #BCHL #jointheherdhttps://t.co/L7NWW9gvHB

— Cranbrook Bucks (@CranbrookBucks) April 2, 2020
---
Former Nelson Leaf and Castlegar Rebel Adam Maglio keeps an eye on things from the Spokane Chiefs bench
» Story by Bill McDonnell - PDF
---
NMHA Grad Kaleb Comishin top D-Man in KIJHL Murdoch Division
Congratulations to Kaleb Comishin who has won top defence man for the Neil Murdoch Division!#LeafGreen pic.twitter.com/JdSmdRxk0w

— Nelson Leafs (@Nelsonleafs) February 27, 2020
---
Congrats to Reece Hunt!
Congrats to @reecehunt44 for being named to the All-WCHA Rookie Team!!

20 members of the BSU Women's Hockey team also earned WCHA All-Academic honors!!

📝https://t.co/Hs9dfYFtK3#GoBeavers #BeaverTerritory pic.twitter.com/99wiJ3BWH0

— Beaver Womens Hockey (@BSUBeaversWHKY) February 27, 2020
---
Quinn named MML Player of the Month!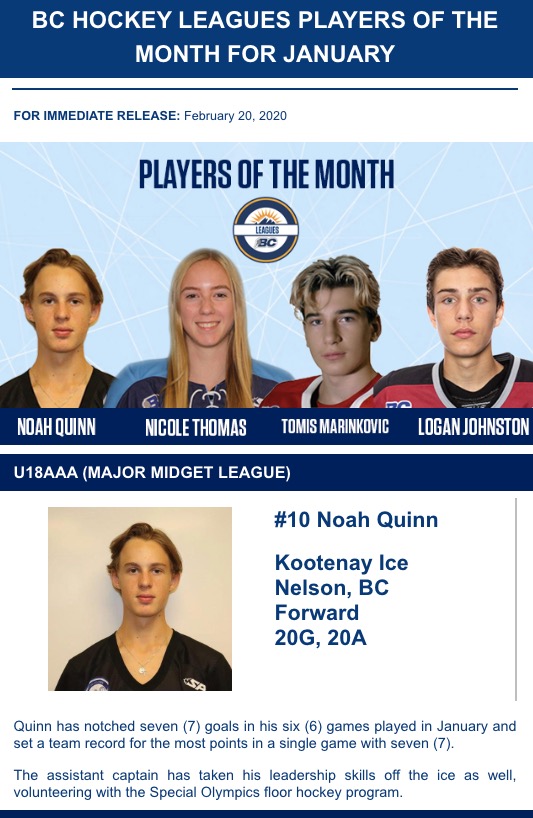 ---
Where are they now?
By Bill McDonnell

» Female NMHA players > Wildcats > University (PDF)
 
» Former NMHA players current teams, 2019-20 (PDF)
---
Former NMHA player wins second 'Hot in the KI' star
Congratulations to Nelson Minor Hockey grad Joe Davidson who's having a stellar rookie season in KIJHL!
» Read it here in The Nelson Daily
---
Raffle winners!
1st prize $1500.00 - Marla Dreher
2nd prize $500.00 - Simone Tait
3rd prize $250.00 - Michelle MacLean
---
Quinn puts up seven points in Kootenay Ice win over Canadians
Big game for Nelson local in 7-5 win!
» Read about it in the Nelson Star
---
Quinn signs with BCHL Smoke Eaters as an AP
January 12, 2020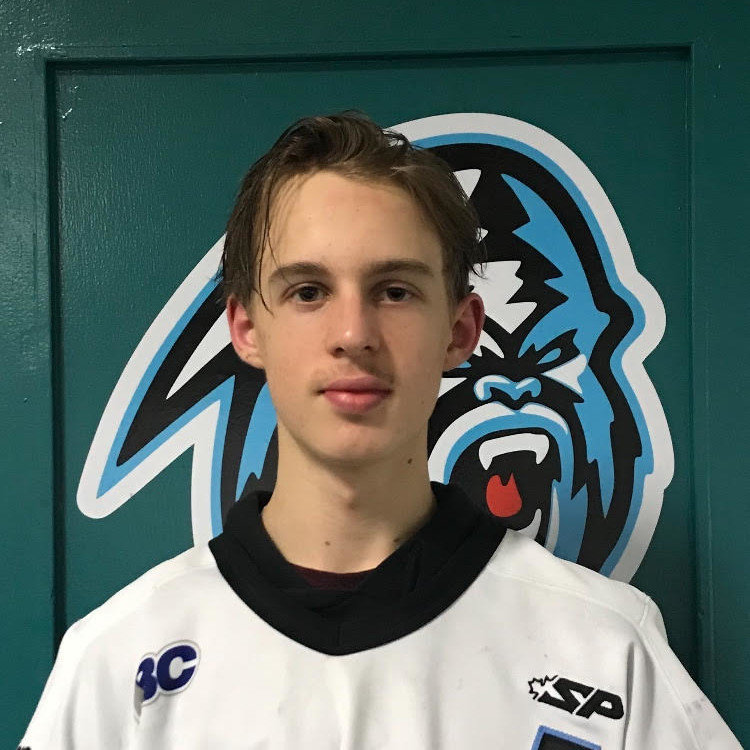 Congratulations to Noah Quinn who has joined the BCHL Trail Smoke Eaters as an affiliated player for the 2019/20 season. Noah is a 2003-born player from Nelson currently playing for the Kootenay Ice MML team in Trail. He is leading his team with 22 points and is the top 20 in the league. Congratulations Noah!
---
Fundraiser for Smith family
Chad and Leanne Smith's 8 year old son Axl was recently diagnosed with 2 rare forms of leukemia. Axl started hockey season off in September scoring a hat trick. The next weekend he had a league game where he was too weak to finish the game. Most would believe Axl just had a school year flu, but by mid November Axl was still not well. Blood work confirmed a parent's worst nightmare! Axl is now receiving aggressive chemo-therapy at Vancouver Children's Hospital and will continue treatment for another 7-8 months. Chad has been travelling back and forth and is currently at home with Axl's older brother Kai, doing his best to make things as normal as possible for his grade 6 school/hockey year. Leanne is beside Axl during his treatments and helping him cope with long days in a hospital room. Chad and Kai will be heading to Vancouver to be with Axl and Leanne over the holidays.
See our Facebook Group for more information on how you can help as we raise money to offset the huge expense of travelling to Vancouver, living in Vancouver and missing work to be with Axl while he is going through seven months of treatments.
If you would like to make a donation to help support the Smith family, you can e-Transfer to .
---
Bhabra signs with BCHL Prince George Spruce Kings
September 11, 2019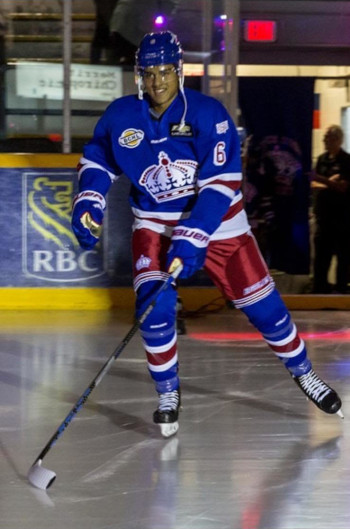 Former Nelson Minor Hockey player Amran Bhabra signed with the Prince George Spruce Kings of the BCHL as a 16 year old defenceman. Congratulations!
Former Kootenay Wildcat, Katie Yuris, receives BC Hockey Coach of the Year
June 11, 2019
---
NMHA players sign with Minor Midget teams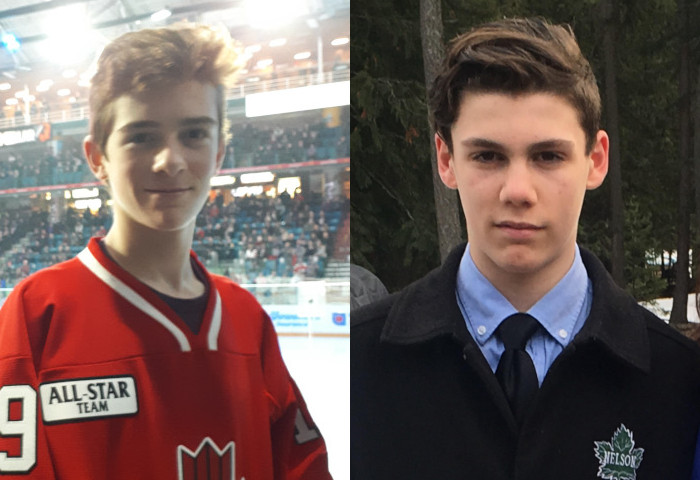 Congratulations to Nelson Minor Hockey players who have recently signed with BC Minor Midget teams. Seamus Boyd (left) will be suiting up with the Vancouver North West Hawks in the upcoming season while Ethan Bennett will be skating with the Thompson Blazers.
---
Annual General Meeting
Wednesday May 1, 2019, 7:00 PM in the Hume Room at the Hume Hotel
» Read the AGM minutes and Directors' Reports here
---
Owen Ditzel selected to BC U15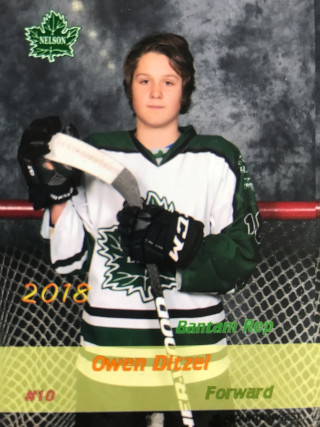 Congratulations to Nelson Bantam Rep player Owen Ditzel who's been selected to play at the Male U15 Provincial Tournament in Penticton in May!
---
NMHA AWARDS 2018-19
Well done everyone! And thank you to all players, coaches, team officials, on-ice officials, parents and volunteers.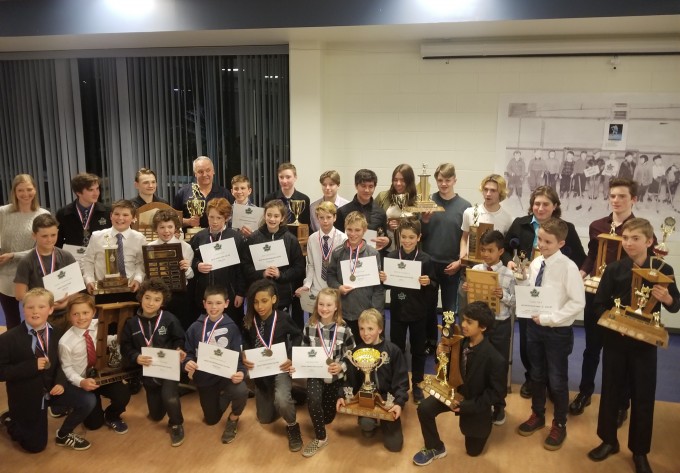 ---
Congratulations Bantam Reps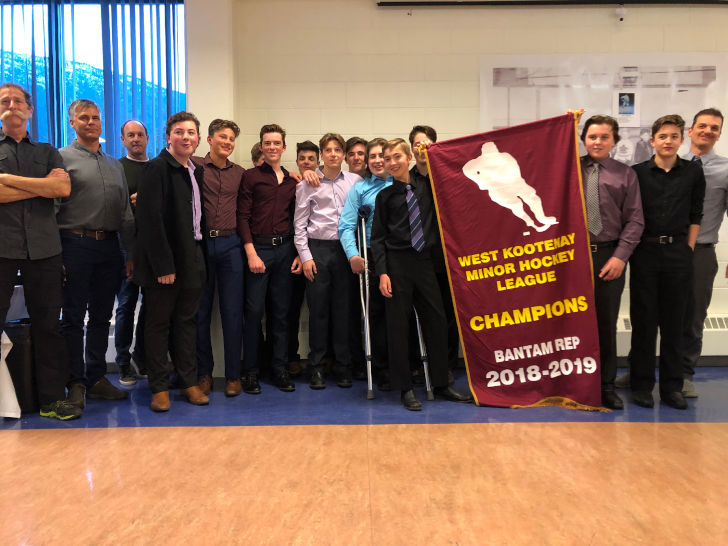 The Nelson Bantam Reps won the West Kootenay Tier 2 banner! The team is made up of players from Nelson and Castlegar.
---
Registration is happening for the 2019-2020 season!
–
NEW - EARLY BIRD DISCOUNT - if registered by MARCH 31, 2019
REP REGISTRATION deadline is May 31, 2019. Early Bird discounts apply if paid before March 31, 2019. Late registration fees of $800.00 apply after May 31, 2019.
RECREATION (House) REGISTRATION deadline is June 30, 2019. Early Bird discounts apply if paid before March 31, 2019. Late registration fees of $600.00 apply after June 30th.
Download registration forms:
NEWS
---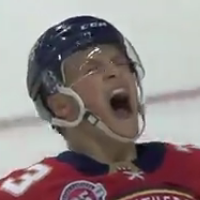 NEWS: DRYDEN HUNT NETS FIRST NHL GOAL!
---
Congratulations Reece!
---
Nelson Bantam Leafs Victorious in Spokane

The Nelson Bantam House Leafs team consists of (back row) Matthew Lehr, Brandon Brook, Jamie Popoff-Hnatiuk, Levi Reynold, Rowan Nickason, Ryan Durocher, Imogen Maley, Wyatt Groenhuysen, (front row) Arjun Bhabra, Bryce MacLean, Ryan St.Thomas, Jesse Chochinov, Lucas McDonnell-Hoffert, (missing) Levi Mint & Nathan Bernhardt.
The Nelson Bantam House Leafs brought home gold from the President's Day U14 Tournament in Spokane held February 15-17th. Eleven teams competed, coming from Cranbrook, Kelowna, Lewiston,Nelson, Palouse, Spokane, Tri-Cities & Wenatchee.
Nelson got off to a slow start in their first game resulting in a 3-2 loss to Kelowna. They rallied back the next day with wins against Palouse (6-1) and Tri-Cities (10-0), finishing the round robin in 3rd place. The semi-final game saw Nelson in a rematch with Kelowna which ended in a 2-1 victory for the Leafs. This win put Nelson into the final match of the tournament against an undefeated Wenatchee team. The Nelson team didn't let up and came away with a 6-1 win and a set of gold medals to finish the weekend.
---
Former NMHA players listed with WHL teams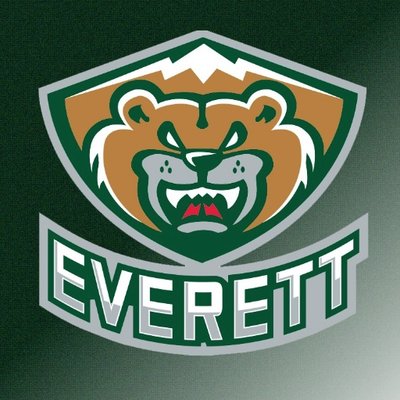 ---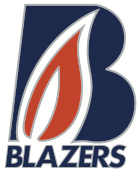 ---
Good showing for Bantams at KIBIHT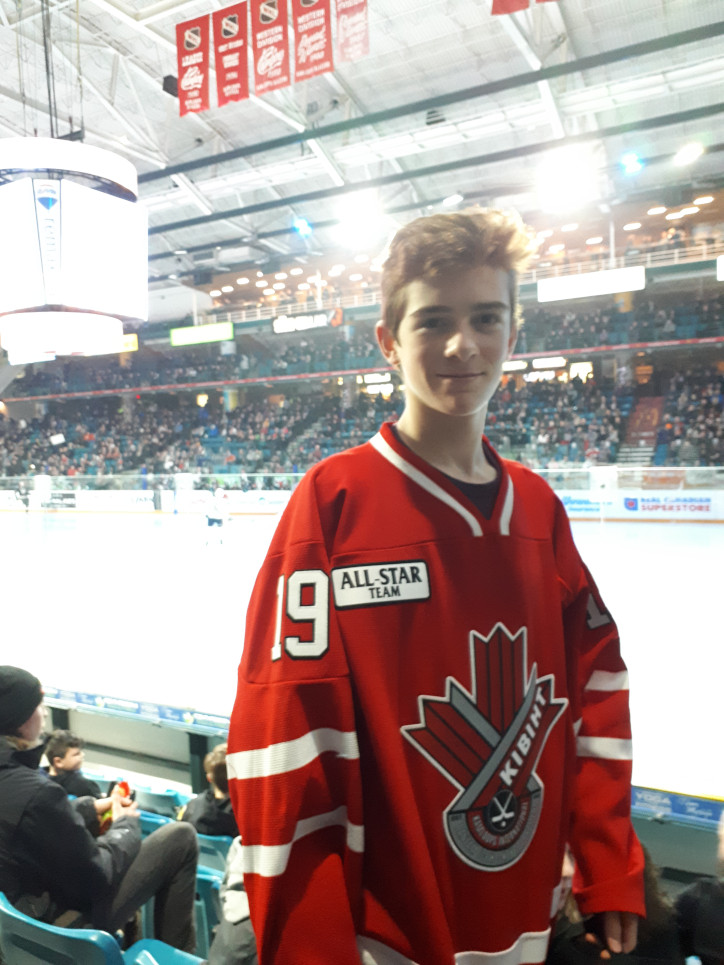 The Nelson Bantam Reps went to Kamloops over the Christmas break to play in the Kamloops International Bantam Ice Hockey Tournament. Over 35 teams played In the Zone 1 and Zone 2 Division. Nelson won all three games in the round robin earning them a playoff spot. Forward Seamus Boyd was selected All Star Forward for the Tier 2 Division.
---
NMHA Cash Raffle
Congratulations to our winners!
1st – $1500 Rob Niminiken
2nd – $500 Rose Dickinson
3rd – $250 Bruce Northcott
---
NDCU Shoot-Out!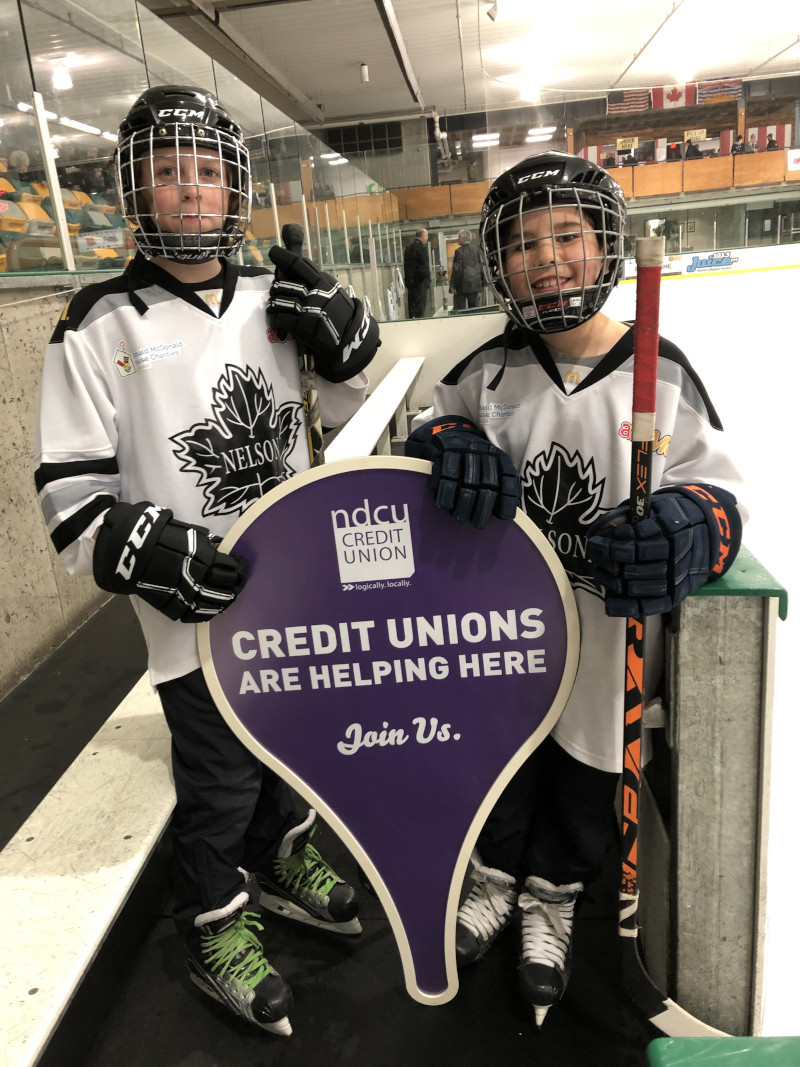 On Sunday December 2nd, NDCU was the game host for the Selkirk Saints game at the NDCC. They coordinated a minor hockey shoot-out from the blue line with two NMHA players, Parker Wolbaum and Kai Smith who scored $250 from NDCU! Thank you NDCU for your support of Nelson Minor Hockey.
---
Nelson Minor Hockey grads take advantage of opportunities
Thursday November 22, 2018. It's been a banner week for two Nelson Minor Hockey grads, Reece and Dryden Hunt.
Read about it in The Nelson Daily
---
History

Given BC Hockey's 100th Anniversary, this is a reflection of Nelson's influence on the early development of organization hockey in BC. Read more...
---
Kootenay Ice MML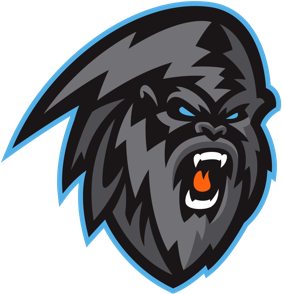 Check out the schedule and support our Nelson Minor Hockey graduates playing for the Kootenay Ice MML: Charles Curiston, Tenzin Mint, Joe Davidson, Kaleb Percival and Noah Quinn.
» Kootenay Ice - NMHA Alumni
» Noah Quinn nominated for MML Player of the Month
---
Bantam Tier 3 Provincials
Nelson was proud to host the BC Hockey Bantam Tier 3 Championship this past March.